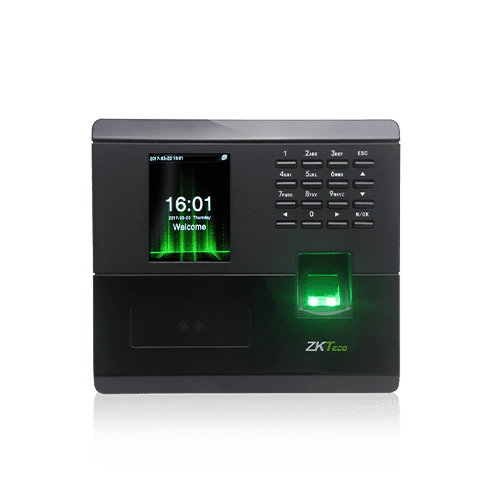 ZKTeco MB10 is an innovative biometric fingerprint and face terminal for Time Attendance application, offering unparalleled performance using an advanced algorithm for reliability, precision and excellent matching speed. The multibiometric device comes with  a variety of verification methods, and can also be equipped with parameters for the East Africa region. It is an excellent machine for small and medium enterprises.
Learn more about this device.
2.8" general quick start guide
ZKTeco is a globally renowned provider of biometric verification algorithm techniques, sensors and software platform, which owns patents of fingerprint, iris, face, vein and palm print recognition techniques etc., and owns patents of compute vision techniques including facial recognition, identification of behaviors, X-ray object identification, and video structure, which make ZKTeco one of the enterprises in the industry that owns comparatively numerous patents. From the core technical authorizations of physical and behavioral features including fingerprint, iris, face, and vein, to ZKBioDeSee Software empowered by hybrid biometric verification and computer vision and hybrid biometric verification identity authentication O2O smart terminals and solutions, we offer one-stop solutions based on smart verification and identity authentication applications for vertical industries, partners, and system integrators.